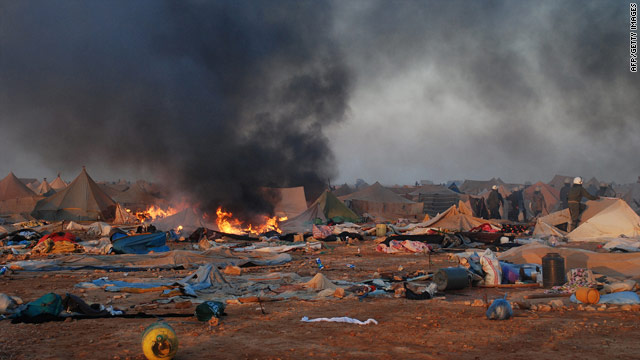 At least seven people have been killed and many more injured when Moroccan forces raided a protest camp near Western Sahara's main city of Laayoune, which is under the military control of Morocco. The Gdaim Izik camp, which houses 12,000 Saharawi refugees, had sprung up four weeks ago, according to one version, in protest against the deteriorating living conditions in the area and the ongoing political stalemate. But according to another version, protests are seeking independence from Morocco.
The clashes are believed to have been some of the worst in the territory, which is a former Spanish colony, that has been under Morocco's partial military control since 1975.
Rabat says the territory should come under its sovereignty, while the Polisario Front, which fought a guerilla war with Morocco for years, insists on a UN referendum that would enable the Saharawi people to choose between autonomy, independence or integration with Morocco. The violence came shortly before another round of talks between Polisario representatives and Moroccan senior officials began in the US.
Via Aljazeera