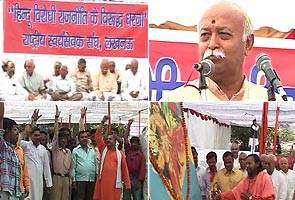 Rashtriya Swayamsevak Sangh (RSS) activists, led by their top leaders, Wednesday, Nov 10, 2010,  staged protests in several places across India against the central government's alleged political conspiracy to link the group to terror activities.  Protests were held in almost all districts across India.
RSS chief Mohan Bhagwat led the protestors in Lucknow while general secretary Suresh Joshi addressed a rally in Hyderabad. Demonstrations were also held across Punjab, Haryana and Orissa.  In Delhi, MPs Prakash Javadekar and Balbir K Punj were among those who participated in the sit-ins.
The protests come in the wake of RSS leader Indresh Kumar and other activists being named in the chargesheet in the Ajmer blast case — three people were killed and 30 injured when explosives kept in a tiffin box exploded at the shrine of Sufi saint Moinuddin Chisthi Oct 11, 2007.
Addressing protestors in Lucknow, Bhagwat said the cases and allegations against the RSS were "baseless and politically motivated".  He claimed  that no RSS activist could be even remotely connected with acts of terror and  he disowned all those who were suspected to be involved in such acts.
He also came out strongly in defence of Indresh: "The fact that the investigating agencies had failed to find any concrete evidence against Indresh proved our point that he was being falsely implicated simply because the UPA government wanted to give us a bad name."  
The RSS chief alleged that since 2003 attacks were being carried out on saints as a well-planned conspiracy to demoralise Hindus. "First Kanchi Acharya was arrested and dirty allegations were levelled against him, then Swami Laxman, who was working for the welfare of tribals in Odisha was killed. Everyone knows about the conspirators, but they are still roaming free. This was done by those who knew that opinion of people will change due to work of these saints. Now dragging Sangh's name is a part of that chain," he said.
Bhagwat said that the problem was not for the RSS only but the entire Hindu society as an effort was being made to demoralise them by spreading canard. "Respecting the Constitutional traditions, we had been working silently so far, but this is the limit. Today danger looms large over peace, unity and integrity of the country and people should realise it," he said. This is the first time the RSS chief has led a demonstration.
In Delhi, Punj said the central government was misusing investigative agencies and other institutions to "defame the RSS and its activists".  
In Orissa, protests and rallies were held not just in the capital Bhubaneswar but also in places like Cuttack, Rourkela and Sambalpur.  Carrying placards and banners, hundreds of activists staged a sit-in near the Raj Bhavan. According to Orissa unit general secretary Gopal Prasad Mohapatra, the recent investigations of the Rajasthan Anti-Terrorism Squad (ATS) team probing the Ajmer blast were part of sinister designs to destabilise the country. Stating that Hindu organisations and religious leaders had been a constant target for several years, he said attempts were afoot to dishonour the Hindu religion.
In response to the call, demonstrations were also held in over 20 places in Punjab.  "Mass dharnas have been organised against hateful and politically motivated anti-Hindu propagandas of some leaders and political parties related with the union government," said Munishwar, general secretary of RSS (Punjab).  "The chargesheet filed by the ATS, Rajasthan, in the Ajmer case and subsequent statements are irresponsible… In the 820-page chargesheet neither has Indresh Kumar been named as accused nor are there are any formal charges against him. But the ATS is still harassing him," RSS spokesperson Kishor Kant said in Jalandhar.
via RSS holds nationwide protests against Hindu terror tag            NDTV