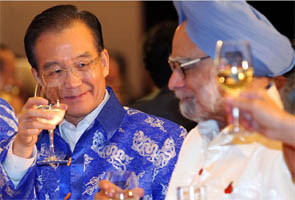 India and China have expressed readiness to resume high-level defence exchanges that have been put on "pause" after a senior Indian Army officer was offered a stapled Chinese visa. But, China continues to snub India saying that there will be no change in its policy of issuing stapled visas to people of Kashmir.
A group of 15 Nobel Peace Prize winners has released a letter asking the leaders of the G20 nations to press China to free imprisoned dissident Liu Xiaobo, the winner of the 2010 prize. The group, including former US president Jimmy Carter and Tibet's spiritual leader the Dalai Lama, also called on the leaders at their summit next month to ask China to free Mr Liu's wife, Liu Xia, from house arrest. Mr Obama did not sign the letter.
Relationship with Pakistan and China appears to be becoming stronger. China is showing signs of providing nuclear technology to Pakistan. Beijing has been preparing to build two new reactors at Chashma, where it has already built one and is finishing another, despite the qualms of Washington, New Delhi and other capitals.
(with Inputs from sinonewsforindians.wordpress.com )
China snubs India again    Sino-Pak nuclear collaboration   Singh-Wen talks seen positively   Nobel winners lobby for Liu release   Pakistan and China move closer in nuclear embrace    Pakistan and China move closer in nuclear embrace